Kids TV - Classic programmes from yesteryear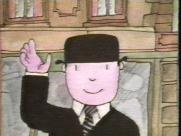 Welcome to the site that is guaranteed to make you feel old.
Kids TV has been reminding people of long missed programmes from when they were children for over 15 years and whether it's the characters, the stories or, more than likely, the theme tune that you remember, it may well be here somewhere.
There aren't any hard and fast rules for which programmes are listed here but they were all shown in the UK at some point, they mostly appeared sometime after TV started realising that children watched TV (early 70s) and sometime before the toy companies started realising that children watched TV (mid to late 80s). Coincidently, this is the time that I myself was a child watching TV. To be listed though, the programme need to be, by and large, more than any good (though the odd dud is mentioned as well).
Contributions to the site, whether it's new information about a programme listed, or a programme that's been missed, are very welcome and can be sent to info@kids-tv.co.uk.
One last thing to bear in mind, this isn't "Encyclopaedia Children's Television". There's no episode guide, no cast list and some of the descriptions are vague at best, the site is here to jog your memory, not help you pass an exam!
So, sit down, relax and remind yourselves of the times you'd sit about a foot from the screen and watch your favorite classics. Oh, and join the Facebook group, that sees a lot more updates than this website.
---
Win a copy of "Moondial" on DVD!
It's always nice to hear about DVDs of classic Kids TV progrsammes being released. One such programme that doesn't appear on the site list (simply because it was shown after I stopped watching Kids TV) but is often asked about in e-mails, is "Moondial".

Click to order from Amazon
Based on the best selling novel by Helen Cresswell and first shown in 1988 (and repeated in 1990), Moondial hasn't been available to purchase since it was first shown on TV, but will be from May 4th 2015.
The story follows 13-year-old Minty who goes to stay with her Aunt Mary and discovers a secret within the grounds of a local old mansion. When the moon falls on a sundial, Minty is transported back to the early 1900s where she discovers two children, Tom and Sarah, who have been troubled by evil forces and severe cruelty.
You can order the DVD from Amazon by clicking here
but we have a copy to give away.
Competition
Ian Trembirth
May 2015.
---
©1998 - 2015 kids-tv.co.uk