Kids TV - Classic programmes from yesteryear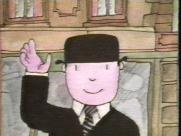 Welcome to the site that is guaranteed to make you feel old.
Kids TV has been reminding people of long missed programmes from when they were children for over 10 years and whether it's the characters, the stories or, more than likely, the theme tune that you remember, it may well be here somewhere.
There aren't any hard and fast rules for which programmes are listed here but they were all shown in the UK at some point, they mostly appeared sometime after TV started realising that children watched TV too and sometime before the toy companies started realising that children watched TV too and, by and large, they were more than any good.
Contributions to the site, whether it's new information about a programme listed, or a programme that's been missed, are very welcome. For the moment though, please don't report broken links. I'm working through them all and I'll get to them as soon as I can!
One last thing to bear in mind, this isn't encyclopaedia children's television, there's no episode guide, no cast list and some of the descriptions are vague at best, the site is here to jog your memory, not help you pass an exam!
So, sit down, relax and remind yourselves of the times you'd sit and watch your favorite classics. Oh, and join the Facebook group. I'm not sure where I'm going with that yet but it'll be somewhere!
---
Children's Television To Leave BBC1
So the BBC have decided today that with CBeebies and CBBC, there are enough places for the kids of today to watch their TV without having to clog the airwaves of BBC1 or 2. To be honest, it's been heading that way for a while with more programmes on BBC2 on a Sunday morning than on BBC1 during the week. I don't know when the traditional lunchtime slot stopped and ITV gave up a long time ago.
Channel 5 may carry on with milkshake and I hope they do, there's some "proper" kids TV stuff there with memorable characters and stories that aren't going out of their way to teach you things (unlike most of the CBeebies output).
My problem isn't that Blue Peter is being taken off BBC1 though (to be honest, cutting the show down to fewer episodes a week has helped it) it's that they won't bother to replace it with anything that anyone would watch, how many ways of showing an antiques programme can they come up with? It'll either be that, a quiz or another damn cookery show.
So fairwell kids TV on "proper" TV. If you haven't got kids of your own though I really do recomend "Horrible Histories" on CBBC ("Friday Download" is also recomended if you were a big fan of "Why Don't You" in the past), if dropping programmes from BBC1 means more shows like this then I really don't see a problem.
Ian Trembirth
June 2012.
---
Some Other Things You Might Like To Know About

Here comes BOD - one of Britain's best loved and fondly remembered children's TV characters of the 1970s – is back in print.
Lo Cole, an illustrator and son of Bod's late creators Michael and Joanne Cole, has faithfully restored his mother's artwork, reviving the freshness and clarity of the original illustrations.
Each of these beautiful quality prints are hand-numbered, embossed with the 'Michael Cole Estate' seal and each comes with a Certificate of Authenticity.
The 'Bod Collection': 12 limited edition prints.
Size: A4; 11.7" x 8.3"; 297 x 210mm
Edition size: 175
Price: £45.00 each
The official 'Bod Collection' is available now from Imaginary Press at imaginarypress.co.uk.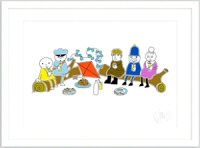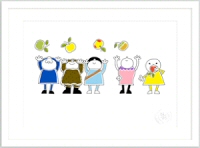 ---
Celebrate 70 years of Enid Blyton with the Famous Five Series One DVD
Koch Media are proud to announce the Collector's Edition DVD boxset release of Enid Blyton's Famous Five on August 6th. The set includes all 26 episodes of the classic 70's TV show.
The two series were originally broadcast on ITV in 1978 and 1979 and this year marks the 70th anniversary of the release of the Famous Five series of books.
Meet the Famous Five: Julian (Marcus Harris), Dick (Gary Russell), Anne (Jennifer Thanisch), their cousin George (Michelle Gallagher) and her dog Timmy. Ruined castles and rolling moors; mysterious islands and hidden caves: the five can find adventure wherever they are. Join them at Kirrin Cottage, or away on their holidays as they encounter smugglers, scoundrels and spies. Thankfully, Uncle Quentin and Aunt Fanny are always around to offer lashings of ginger beer.
Based on the best-selling Enid Blyton series of books, this classic 70's TV series also features the talent of classic British actors, including; Patrick Troughton, Ronald Fraser, Brian Glover, David Rappaport and an early appearance from Rupert Graves.
©1998 - 2013 kids-tv.co.uk